We welcome hikers on the AT to have a rest under our shade trees, lunch at our picnic table or just stop in for a cool drink. Better yet, stay for a complete rest overnight!
Please note: We have very limited availability from June 15, 2024 thru Sept. 30, 2024 so phone ahead for reservations.
Berkshire Lakeside Lodge is conveniently located only 100 yards north of the AT trail (or 1/10th of a mile from the Lee-Becket town line).
Please see our "Rates" page for current seasonal and daily rates and know that we offer a $5.00 discount if you mention you are hiking the AT.
An overnight stay includes all amenities and use of our boats and kayaks on a first-come, first-serve basis and:
Comfortable bed (king, queen, 2-full size beds or twin-size)
A small fridge
Keurig coffee machine and assortment of coffee/tea pods
WIFI access
Satellite television
Menus to a restaurant that will deliver to your room from Lee, MA ($5.00 delivery fee)
Soda available for purchase by guests and through hikers for $1.00
Complimentary muffins and assortment of coffees & teas for guests in our breakfast room (open 24/7)
Service pets only if staying overnight
Just a through hiker on the Berkshire section of the AT?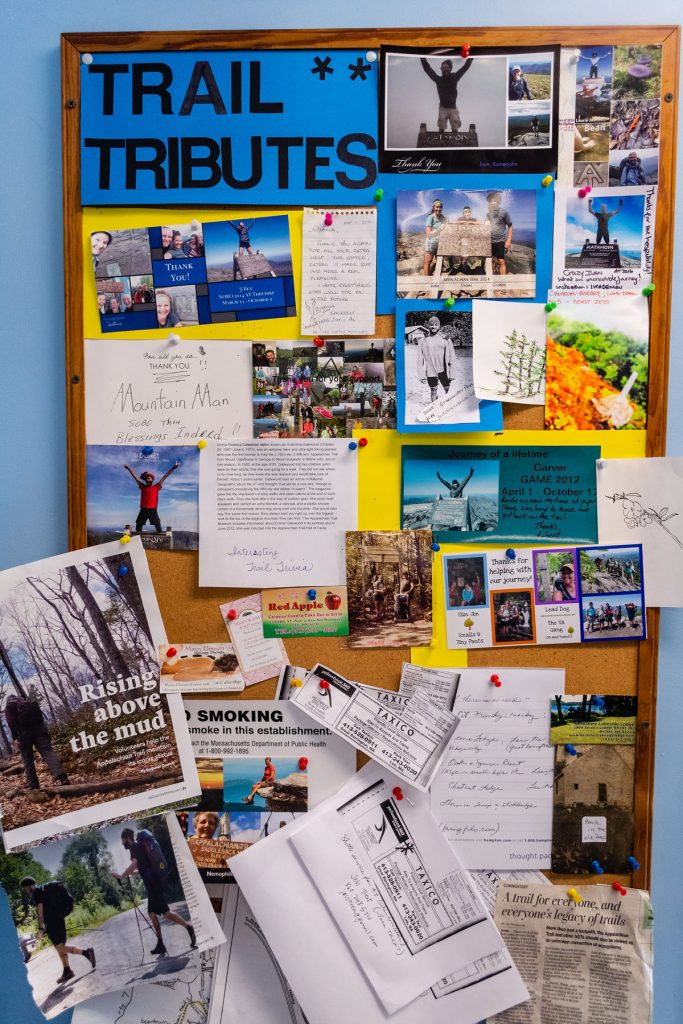 Mail can be received here (essential that you call ahead to arrange pickup). Address packages to yourself in care of: Berkshire Lakeside Lodge, 3949 Jacob's Ladder Rd, Rt 20, Becket, MA 01223 and be sure an estimated time of arrival appears (your phone number is also helpful if possible). Note: We reserve the right to dispense any package content to our communal hiker box if not retrieved by sender three months after the delivery date.
Through hikers are invited to partake in a variety of cold sodas available for $1.00 on honor basis as well as a cup of coffee (Keurig brands). Please place money in the silver tankard in fridge. We also offer through hikers our muffins (at $2.00@). All are found in our breakfast room adjacent to the left of the office and open 24/7.
Hiker Box: Hikers leave usable items for other hikers on the AT in the box provided in our breakfast room. You are invited to drop in to browse the contents, get a cool drink, fill up your water bottle and say hello!
Transportation:
While we are not aware of any current Uber/Lyft providers, but a reliable private driver who has been accommodating hikers to and from the motel is Deborah Andrus and she can be reached at: 413-841-4362 (she is based out of Pittsfield (25 miles north of us but actively on the move daily). Other options are:
Gidget Shuttle Service: 802-369-5780 (also out of Pittsfield)
Joe in Dalton (further north of Pittsfield) at 413-717-0751
Great Barrington, MA (south of us about 25 miles): Hank's Shuttle Service (invites customers to phone 24/7) at 518-821-5971
See Guthook (an AT Guide app) and other apps for additional notes by last year's hikers.
"Really enjoyed my time at your place; was hard to leave and get back on the trail!" – Robert
"Thank you again for all your extra help and the coffee extras made staying here a real pleasure!" – Gorilla Jim & Avalanche
"Thanks for the great hospitality" – Crazy Ian
"Thanks for all you do" – Mountain Man
"Thanks for helping with our journey" – The VA GANG: Slim Jim, Smalls, tiny Pants, and Lead Dog